In the final column of the season, I look back at the ups (& the downs) of a defining month for Bristol City – and what could be next…
Bristol City 0-1 Sheffield United: Sunday 2nd April
City's final game of the season at the Robins High Performance Centre had the highest attendance for a league fixture for some time, with 715 fans being present at BS8. I was one of those nearly didn't make it in time due to being caught up in a "Drum and Bass on a Bike DJ" cycling event that impacted traffic & blocked roads. If you read that event name & thought it would be something that typically represents the city of Bristol, you'd be right!
Lauren Smith made two changes to the starting XI, with Aimee Palmer & Naomi Layzell (returning from concussion protocol) to start the match. Mari Ward was dropped to the bench, as was Shania Hayles. While the sun shone on the pitch, the goal opportunities by comparison didn't.
On 20 minutes, Rachel Furness shot on the spin from the edge of the area but was saved by Fran Stenson (there are more goalkeepers than I thought (especially in the Championship) with the name Fran). Shortly after, Aimee Palmer's corner kick was caught by Brooke Aspin, but it was headed wide. On 25 minutes, a counter attack saw Mia Enderby run with the ball to find Bex Rayner, who then set up Courtney Sweetman-Kirk to get her goal. Enderby nearly had one herself at the end of the first half, which once again was from a counter-attack after a Palmer free kick was intercepted.
For those that stayed in the stand during half time, fans got to see former Bristol City & England star Corinne Yorston be interviewed pitchside. Yorston was a guest at the game, and was back in Bristol for the weekend due to being the first player from the women's team to be inducted into the Bristol City Hall of Fame the day before at the men's game against Reading at Ashton Gate. A long-overdue accomplishment, and something that myself & fellow supporter D-M Withers have worked on since we joined the Bristol City Supporters Club & Trust board.


Several minutes into the second half, City were down to ten players after Vicky Bruce received a straight red card for a challenge on Enderby as she was going through on goal. As this was at the other end of the pitch from where myself & other fans were, we couldn't see this clearly & didn't hear an announcement. Thinking that there may have been an injury, it was only until fans checked Twitter to find out that Bruce had indeed been sent off. The second half saw a better performance by City, with subs making some impact. Ella Powell had come on for Layzell (who was booked in the first half for a heavy challenge), with Emily Syme & Hayles coming on for Furness & Jesse Woolley respectively. On the 68th minute, another Palmer corner kick had the same outcome, but this time Aspin headed it over the bar. In the 80th minute, Gracie Pearse was able to head from a Palmer corner, but her attempt hit the woodwork.
Ten minutes later, a Grace Clinton rebound could have been the equaliser, but it was ruled offside. Aspin's earlier header had followed after a collision with Molly Graham. The stoppage in play was genuine here, but somewhat became a repetitive tactic used by the Blades as the game developed, virtually killing any momentum that the home side may have had. It was because of this that there was seven minutes' added time.
It might have been a gritty win, but Sheffield United were the victors in another great result for Jonathan Morgan's side since he recently took over. Bristol City hadn't lost a league game at the RHPC all season, so it seemed a coincidence that it took place at the last one. With a combination of this result, London City Lionesses reducing the gap to three points after beating Charlton Athletic 1-0, and some home fans expressing dismay at the tactics used by the Blades; what was meant to be a happy occasion didn't end up as such. Even I was so annoyed, that I changed my mind on asking Courtney Sweetman-Kirk for a photo! In a previous interview, Lauren Smith had commented that international breaks would often come at the wrong time for the club (if they were on a good run), however, some fans would have been happy that one was now around the corner.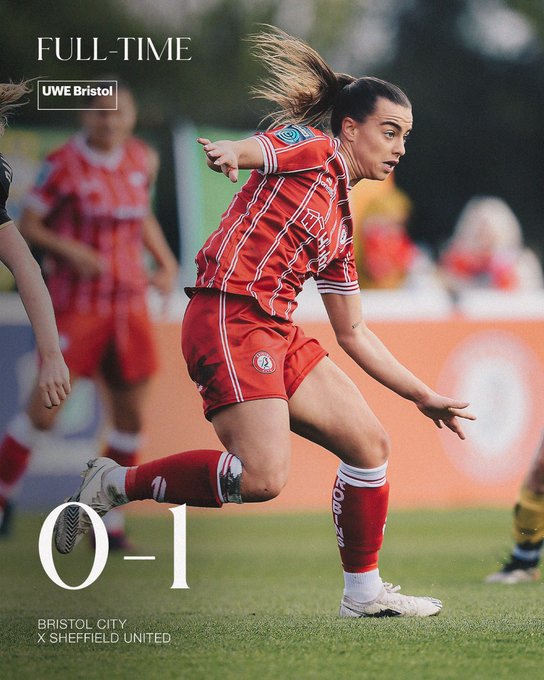 The Last International Break
On April 6th, Lauren Smith was once again announced as the Barclays Womens Championship Manager of the Month by the League Managers Association (LMA) panel. This was in recognition of her work which saw City get four wins out of five in March. Meanwhile, club teammates got to face off against each other that night when Wales took on Northern Ireland in a friendly in Cardiff. Ella Powell & Ffion Morgan came on as a substitute, while Rachel Furness made her Northern Ireland return also as a substitute. Liv Clark started in goal for the Wales side that won 4-1, and kept her place in the 1-1 draw away at Portugal five days later. Sticking with Wales, academy product Tianna Teisar scored twice against Kazakhstan & once against Estonia to ensure the U19 side sealed promotion to League A of next season's UEFA WU19 European Qualifying Round.
As for players representing England, Grace Clinton featured in both the U23 games against Portugal & Belgium, with Fran Bentley an unused substitute. Naomi Layzell & Elysia Boddy featured in the U19 squad for this summer's WU19 Euros, with Boddy scoring an equaliser against Slovenia.
Following a win against Belarus, the Young Lionesses missed out on qualification after losing 1-0 to Spain. Two of City's attacking squad had a much quieter international break; with Abi Harrison not being called up for Scotland in their games against Australia & Costa Rica, whereas Shania Hayles was not required for Jamaica's game against…Sheffield United, played at Leicester City's King Power Stadium.
Sunderland 0-5 Bristol City: Sunday 16th April
After the international break, one of the longest away trips followed. City travelled up the day before the game, and it was revealed that they were able to have a session at Middlesbrough's training ground once. I wasn't able to make the trip but I was thankful that Sunderland's Twitter were live streaming the game – with no commentary, which could be a good or bad thing depending on your experience of watching live games online.
Heading into this fixture, Vicky Bruce confirmed on social media that she'd only be serving a one-match ban. However, her absence seemed to have little impact considering that this game provided to be City's biggest win of the season. Jodie Hutton, Ella Powell (on her 50th game for the club), Emily Syme & Shania Hayles returned to the starting line-up. Within four minutes, Abi Harrison got a boot to Jodie Hutton's corner and saw her looping effort bounce back off the angle between post and crossbar. After some strong attacks, Harrison would provide assist for Hayles on the 32nd minute, only to head it over the crossbar. It was on 35 minutes when Rachel Furness delivered a cross from the left after a City corner, to which Brooke Aspin forced an excellent stop from Claudia Moan, who positioned herself beside of goal when Hayles scored on the rebound.
Following a Powell cross for a Hutton attempt, Hayles got her second after latching onto Grace Clinton's through-ball and shooting out from the edge of the area. Hayles hadn't scored for City in over a month, and these goals were a reminder to everyone why she was so high up in the Golden Boot race. It could have been three but Clinton's effort was saved before Gracie Pearse was denied by a last-gasp clearance off the line.
The second half saw more of an even contest to start off with. Clinton set up Powell for an assist, but it went wide. Former Bristol City player & Sunderland captain Grace McCatty even had a chance, but her header only reached the crossbar. But it on the 62nd minute when an assist from Harrison reached Powell to get her first ever goal for the club on her half century appearance. Fifteen minutes later substitutions were made in the form of Tianna Teisar, and Chloe Mustaki who was out with a groin injury for a few months. Teisar had her own attempt on the 81st minute as she raced through one-on-one but her was effort saved. On the 87th minute, Powell would be subbed off for someone else who would get their first City goal; Jazz Bull. Harrison once again provided the assist for Bull to go one-on-one with Moan to shoot with her first touch.
Just when everyone thought it would stay 4-0, Harrison finally got a goal herself in added time when she was found by Teisar in the box. A five-star result for City which got even better following London City Lionesses' 1-0 loss to Southampton later that day, bringing back the six-point gap at the top of the table. Despite the heavy defeat, Sunderland had already secured Championship football for next season & can look ahead as they will be bringing in a hybrid model, with players having the option to go full-time.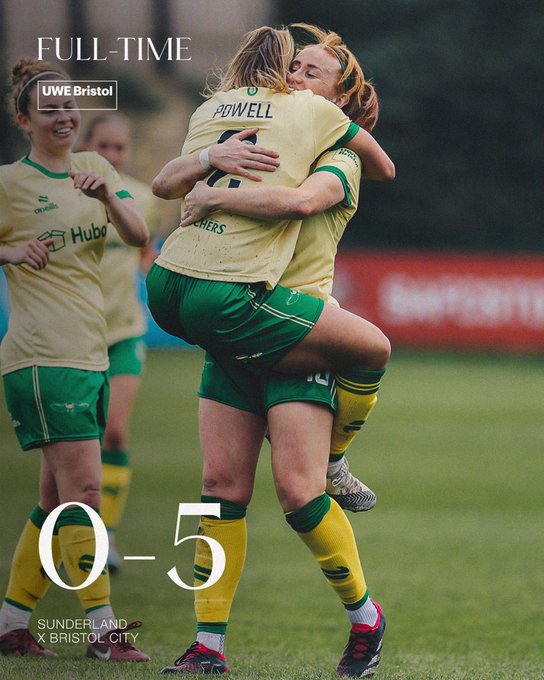 Bristol City 4-0 Charlton Athletic: Sunday 23rd April
Ahead of this fixture, Birmingham City hosted Durham in a re-arranged fixture earlier in the week, and were in a winning run of games. This continued with a 1-0 victory, and therefore moved Birmingham up to second place & four points behind Bristol City. A few days later, with Birmingham then winning again against Durham in the early kick off, City needed a win to ensure the league title. Lauren Smith said in an earlier preview that there were no injury issues in her squad, joking that this gave her a headache when it came to selection. Considering the squad that won comfortably against Sunderland a week before, Vicky Bruce was the only change as she returned from suspension to replace Gracie Pearse in the starting line-up.
Playing at Ashton Gate for the fourth time this season, the team hadn't won at BS3 since a victory over Blackburn Rovers back in November 2021. When the last home game of the season was announced to take place at the stadium, no one at the time expected that it would be the title decider. Perhaps it was because of this (plus a strong marketing push) that a new club-record crowd of 7045 packed out the Dolman stand; and following the mixed results from that day's emergency alarm test; the match finally kicked off a few minutes after 3pm.
After opening attempts from Shania Hayles & Rachel Furness (back at the scene where she won the Championship title with Liverpool a year before), it would be Grace Clinton to get her name on the scoresheet first when on the 25th minute, she intercepted the ball from former loanee Kiera Skeels to slot it past Sian Rogers. The Addicks had few chances but went close in the 36th minute when Freda Ayisi glanced a header wide, but the first half ended soon after Furness crossed for Hayles, only to head into the direction of Rogers.

The second half began with Hayles being replaced by Ffion Morgan. As the samba band placed inside the stadium continued to drum, City continued to get goals when Abi Harrison marked her 100th appearance for the club by scoring from a corner kick. Jodie Hutton; who had scored a similar goal herself earlier on the season; led the celebrations. Making her return to Bristol since leaving in the summer, Melissa Johnson had an attempt which forced captain Fran Bentley to make a save on the 53rd minute. Despite this, City continued to out-perform Charlton & added to their chances.
With Chloe Mustaki coming on for Hutton; plus Clinton being replaced by regular captain Aimee Palmer (although Bentley kept the armband); the Robins continued to push on. On the 80th minute, Palmer took another type of corner that the fans have gotten to love her for, which was headed in by Brooke Aspin for her first ever senior goal. Having nearly scored a similar goal when she returned to action against Durham in March, the 17-year-old made amends & got the biggest celebration after missing most of the season due to recovering from sepsis & a bone infection.
On a side-note, the club  subsequently released a short documentary  which included an interview with Brooke Aspin & lead physio Becky Belbin

Just before the 90-minute mark, a Charlton back pass was picked up by Harrison to tap it close to Morgan, who picked up the ball outside the area to send it flying in for the fourth & final goal. The final whistle came with the win confirming Bristol City as champions & a return to the Barclays Women's Super League after a two-year absence. This would be the team's first league title, having won promotion by finishing second place in the WSL 2 in 2016.
Although Palmer was on the pitch, it would be Bentley who would lift the trophy in front of the thousands in attendance. The current & previous captain had won the Championship previously with Manchester United in 2018/19, and were amongst several others who were able to lift the title again; Shania Hayles & Jodie Hutton (with Aston Villa in 2019/20), Lia Cataldo (with Leicester City in 2020/21), and Rachel Furness (with Liverpool in 2021/22). Fireworks & pyro were present at Ashton Gate, alongside champagne & Harrison singing Natasha Bedingfield's "Unwritten" – the unofficial team anthem – down the microphone. A lot of fans stayed inside the stadium for up to an hour, interacting with the champions.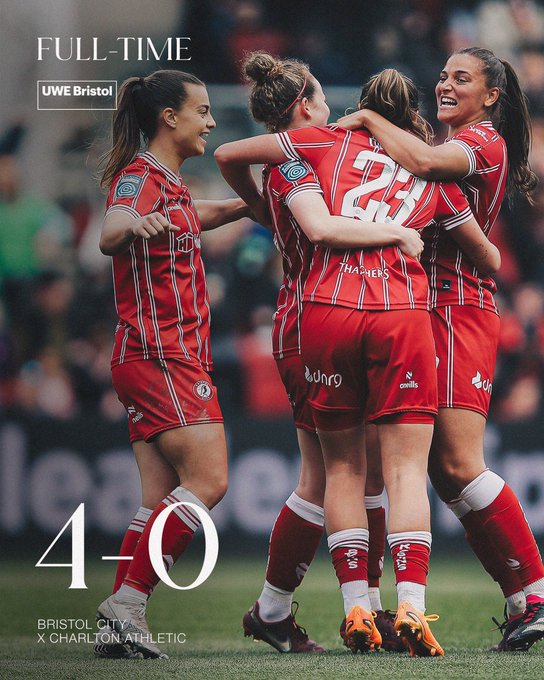 Afterwards I was one of the few to go for a drink at the Sports Bar inside Ashton Gate, when the team & staff turned up afterwards in red "Champions 23" shirts with their medals & the trophy. As an added bonus, I was handed the trophy by Hayles to hold & lift up myself. It's not often I get hands on an actual trophy myself! Me & my friends stayed for a few more drinks before the team went upstairs for a private function with their friends & family members. Interestingly, there weren't many other fans present at the Sports Bar while we were there; if this was meant to be the event where fans can celebrate, then there must have been a problem with communication.
Speaking of which, the announcement of season tickets for 2023/24 & the permanent move to Ashton Gate was also missed by fans on the day – with many not aware until the following morning when season tickets went on sale. With die-hard fans having to rush to get their seats to be sat together or near-as (especially as existing season ticket holders were given no priority period), sales have currently past the 1000 mark; more than the average attendance at a game at the Robins High Performance Centre.
Chairperson Gavin Marshall confirmed on a BBC Radio Bristol interview that the RHPC would most likely still hold pre-season & some cup fixtures, whereas BS3 will now host regular home games for three teams (Bristol City men, Bristol Bears rugby men, and now Bristol City women). Further celebrations continued in the week with the lights at City Hall going red the night after the title win, and on the following Saturday when the team got a guard of honour from the men's team; followed by their own lap of honour ahead of the guys who had played their last home game of the season in a defeat to Sky Bet Championship winners Burnley. Another great moment as part of the wider "one club" mentality, however fans of the women's team who may not follow the men's team would have missed out on this particular event, as it wasn't communicated in detail ahead of the men's game (when I was there only by coincidence).
🔴 City Hall is lit up red tonight to celebrate @bristolcitywfc: @BarclaysWC champions

🏆 Congratulations on your promotion back to the @BarclaysWSL pic.twitter.com/J9wzIVt096

— Marvin Rees (@MarvinJRees) April 24, 2023
Birmingham City 2-0 Bristol City: Sunday 30th April

If the previous result had gone differently, then this would have been an entertaining final day encounter between first & second to decide the champions (something long-time fans will remember when Bristol Academy narrowly lost out on the WSL title to Liverpool back in 2013). However, it proved to be a case of the champions getting a post-celebration shock. Lauren Smith made two changes to the starting XI by replacing Ella Powell & Jodie Hutton with Jazz Bull & Chloe Mustaki, who was making her first start since her comeback. It was later revealed that Hutton had injured her hand in training, and therefore was ruled out of the squad. Aimee Palmer was not featured in the squad but was rather sat in front of the stand where the large numbers of away fans were. Also not to be in the dugout was Elysia Boddy, who was spotted in the stands at Ashton Gate a week before; and interestingly was not involved in any of the team celebrations on the pitch or afterwards.
Apart from the guard of honour that the Birmingham players & staff had made, what followed in the first half did not look like a performance of a team that had just become league champions.
It was at 14 minutes when Charlie Devlin set up Lucy Quinn to opened the scoring after her effort went into the bottom right-hand corner of Fran Bentley's goal. Following some attempts from Claudia Walker; plus those of Shania Hayles & Grace Clinton; it would be Devlin to turn goalscorer at the end of the first half. Diving in the opposition direction of the attack, she somehow headed the ball to the other direction for Bentley to push it to the post, then caught the rebound to shoot it in. City had a much improved second half, with more attempts from Rachel Furness as well as Clinton & Hayles, but goalkeeper Lucy Thomas was able to make the saves when she could.
This would be the second consecutive season where the eventual champions would lose the final fixture; with Liverpool losing 2-1 away at Lewes. And also, the second consecutive season-end where Birmingham rewrote the narrative, having already been relegated from the WSL but going on to beat local rivals Aston Villa 1-0 in last season's finale.
With an attendance of 1633, and only finishing one point behind in second place, Birmingham could continue to be a real threat heading into next season. And with US hedge fund manager Tom Wagner leading a group to take over the overall club, things are on the positive for the Blues. From a Bristol City perspective, Birmingham would be the only team they would not get any points from at all this season, and is the latest chapter in a long-standing rivalry that will continue in the future. With a two-game winning streak in the middle that saw nine goals scored & none conceded, City would start & end the month in shock defeat.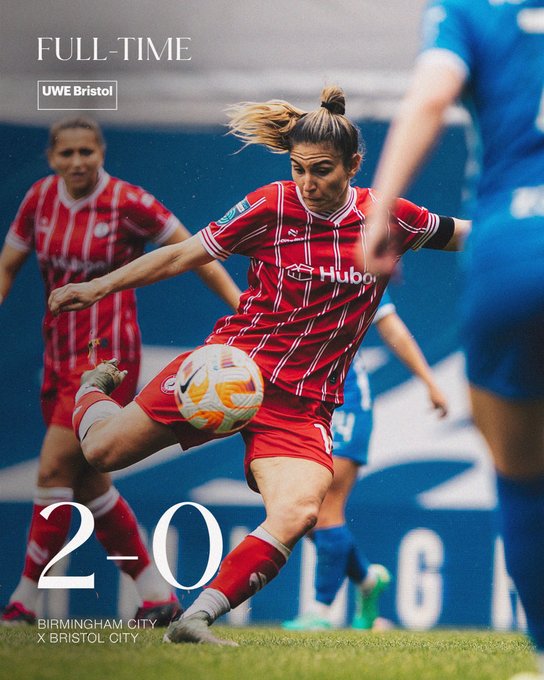 Post-Season: May onwards
On Monday May 1st, the club announced that captain Aimee Palmer, Lia Cataldo, Chloe Bull, Jodie Hutton & Lily Greenslade would be leaving the club at the conclusion of the season. Cataldo & Bull joined ahead of the 2021/22 season but made fewer appearances this season; with Bull going onto announce that she was stepping away from professional football to take up a new role as Women's & Girls' Talent Identification Executive at the FAW. Hutton only joined last summer but had become a fans' favourite & her departure was met with some surprise among the fanbase. Greenslade had signed a dual-registration agreement with National League side Plymouth Argyle so had played more games for the Pilgrims, however is now a free agent having left both clubs.
But the departure that caught the most attention was that of Aimee Palmer, who returned to the club for her second spell ahead of the 2020/21 season. She signed a new contract in January 2022 that would reach up until the end of 2022/23 season, but had a clause of a one-year extension that could be triggered if the club got promoted to the WSL. For one reason or another, this did not take place & leaves as a free agent. With no apparent injury for the Birmingham game; and not lifting the trophy; signs of a possible rift could be present.
The other player that appeared to be "cast out" of that squad was Elysia Boddy, who the club confirmed on Friday May 12th that she had left by mutual consent. The 19-year-old only signed her first professional contract last summer, but found playing time to be limited at the end of the season. As of writing, the status of the remaining squad has not been confirmed. Grace Clinton travelled down with Manchester United to Wembley Stadium for the Women's FA Cup Final on Sunday May 14th, but was not part of the playing squad.
With things off the pitch, the club announced on Wednesday May 12th that general manager Grace Williams would be leaving the club at the end of the month. Having overseen & been a part of the team rebuild over the last two seasons, she will join Crystal Palace as their Head of Women's Football in June. Bristol City have advertised the vacant position with interviews taking place in early June.
At the Bristol City End of Season Awards on Thursday May 4th, Grace Clinton won Women's Young Player of the Year & Abi Harrison won Women's Player of the Year for the second year in a row – with both awards voted for by the public. Fran Bentley won the Players' Player of the Year, and Shania Hayles won the Women's Golden Boot; scoring 11 league goals & 13 overall. Mari Ward won the Women's Academy Player of the Year – and subsequently had a very busy time in the Women's U17 Euros for England; being sent off in the 2-1 win over Poland before returning to score in a 1-1 draw against France, and having the ball slightly bounce off her during a goal in the 3-1 loss to Spain in the semi-finals.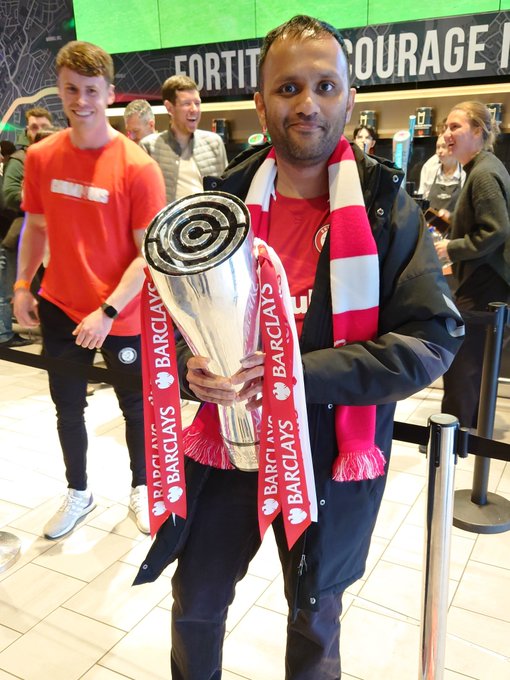 Overall, Bristol City finished this season on 48 points with 15 wins, 3 draws & 4 losses. An improvement on last season's 3rd place finish of 37 points with 11 wins, 4 draws & 7 losses. With the new WSL season not starting until the last weekend of September due to the FIFA Women's World Cup, Lauren Smith & co have a long summer to keep the players that they want to, and to sign the right players to help them compete (and stay) in the top tier once again. Chloe Mustaki & Shania Hayles; if selected; will have a busy summer competing for Republic of Ireland & Jamaica respectively in the World Cup.
As someone who was reluctant to be excited about Championship football, I was proven wrong very quickly & will keep an eye out on the league next season, especially with seeing how Watford will compete after being promoted back, as well as how the team relegated from the WSL will fare. The last two seasons have been a ride but with a new league & new regular home to look forward to, Bristol City will be heading into a somewhat different WSL compared to the one that they got relegated from. To paraphrase a certain song from 2004, the book has already begun…but the rest is still unwritten…